How does your family do in games where you directly go after each other?
Do they find it fun to attack and evade? Or do the games end with hurt feelings around the table?
Or does it completely depend on the situation?
We've found that a lot depends on the situation. Sometimes, the kids just aren't in the mood for games that are all about knocking your opponents out. In those times, they might feel like the world is picking on them.
The good news is that as the kids get older, and as they've experienced more games, those times dwindle. So pulling out the new board game from
Calliope Games
, Got 'Em!, can be a lot of fun. Just like it says on their website, "Got 'Em! is a delightful way to corner your friends."
Can the whole family enjoy Got 'Em!?
We think Got 'Em! is a board game that the whole family can enjoy. Even younger kids can understand how to play the game. As you can see in the video review by Brook and Caleb, it's pretty simple as you place a wall and move your piece. But we think you'll find that the younger kids won't enjoy it as much because they don't like others trapping their pieces.The suggested age for the game is 8+ and we think that's an accurate assessment. It's around that age that kids start planning ahead and thinking strategically to survive in a game about trapping and being trapped.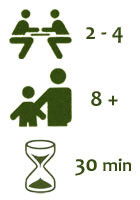 Like Brooke and Caleb said, the colorful side is very enjoyable. But there's also a side without colors that's completely a strategic game – which may appeal more to the older kids in your family. So depending on who you're playing with, there's a game style for you.
How much luck is involved in Got 'Em!?
While there is some luck in Got 'Em!, most of the game is about strategic maneuvering. The luck comes from the cards you draw into your hand. So in that case you'll be limited to where you may be able to place a wall. But you'll also always have a few cards in your hand to choose from. So you'll still have the chance to make strategic decisions.
And if you flip the game board over, you won't be playing with the cards at all. So that element of luck will be completely eliminated and you'll be left to your own mental devices.
How does Got 'Em! score on the "Let's Play Again" meter?
Got 'Em! scores high on our "Let's Play Again" game meter. It really is a fun game of trapping and trying not to get trapped yourself. And because it's so easy to set up for a new game, we find that most games end with calls for a rematch.
Thanks
Calliope Games
for a great family board game!